Norwegian Photographer Captures Strange Moving Light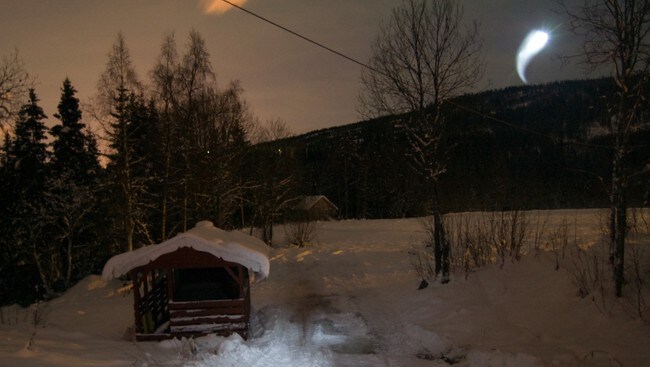 Exact Translation from Norwegian
The Light Was Really Powerful and Disappeared As Quickly As It Came
- It's not the moon, for that I had in the back, said hobby photographer Siv-Helen Alterskjær. - Very strange, I've never seen anything like this, says auroral research
Alterskjær, who lives on Øyjord outside Mo i Rana, was out to photograph the northern lights at night 1 November when she suddenly came upon the mysterious light.

- I'd take some light measurements, asked the camera for aurora photography and took some exposures, she said.

It was when she got home and checked the image on the PC that she saw the sharp white light in the far right.
Disappeared as quickly as it came
- The light disappeared as quickly as it came, it was taken more pictures in the same direction both before and after but it's just this picture that has this weird light.

Now she wonders if there is a natural explanation for the light in the picture.

- It's not the moon, I had in the back. I have a suggestion that there may be a kulelyn, but I'm unsure at the same time it is not unlikely since it went from kaldvær the mild weather last night, says Siv-Helen Alterskjær to NRK.no.
Nordlys Researcher: - Never seen anything like it

NRK.no photo shows the aurora researcher Truls Lynne Hansen, who heads the Northern Lights Observatory at the University of Tromsø.

He has shown the picture to several of his colleagues, but nobody has any good explanation of what it is Siv-Helen has captured with the lens.

- Photo taken at the southwest sky after the sun has gone down. The light is on the wrong side compared to Venus, so it can not be it. There is a small object that illuminates something violent.
- Meteorite?

He questions also over the shape of the light.

- It has a strange shape. The strong wind blew in Nordland that night, and we see clouds wind that blows in the picture. The light hand plunge down to the horizon. Theoretically, it could be a meteorite, says Lynne Hansen.

But sure he's not.

- We receive many photos throughout the year, and some of them must be filed in the category of "strange light phenomena." As I see it, this is one of them, says Truls Lynne Hansen of the Northern Lights Observatory at the University of Tromsø.