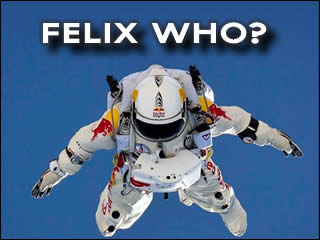 Felix Baumgartner born 20 April 1969, is an Austrian skydiver, daredevil and BASE jumper. He set the world record for skydiving an estimated 128,000 ft (39 kilometers), reaching an estimated speed of 834 mph,1,342 kilometers per hour, or Mach 1.24, on October 14, 2012. He is also renowned for the particularly dangerous nature of the stunts he has performed during his career.
Felix began skydiving at the early age of 16 and perfected his skills by being part of the Austrian military demonstration and competition team. Looking for an outlet to push his skills still further he began exhibition skydiving for the Red Bull Team in 1988. He felt that he had taken his traditional parachuting skills as far as they could go so in the 1990's he began base jumping.
Eager to test the limits, Felix set a record for history's lowest BASE jump, 95 feet from the hand of Rio de Janeiro's Christ the Redeemer statue, twice set world records for the highest BASE jump from a building, Petronas Towers in Kuala Lumpur and Taipei 101 tower, and even landed his canopy inside a cave in Croatia.
He became the first person to BASE jump from the completed Millau Viaduct in France on 27 June 2004 and the first person to skydive onto, then BASE jump from, the Turning Torso building in Malmö, Sweden on 18 August 2006.On 31 July 2003, Baumgartner became the first person to skydive-Fly across the English Channel using a specially made carbon fiber wing.
Felix 'flying' across the English Channel
Unexpected Record
Anyone who failed to realize the days of mainstream media are numbered only needed to pay attention to how many people watched Felix on the internet! Were you one of the millions of people across the globe who tuned in to watch the live YouTube stream on Sunday Oct 14, 2012?
Well, if you were you were then you were part of a new world record! At its peak, there were more than 8 million concurrent live streams of the stunt, YouTube confirmed Sunday in a blog post.
Pat yourself on the back, you made history!
The Historic Record Jump of Oct 2012
In January 2010, it was reported that Baumgartner was working with a team of scientists and sponsor Red Bull to attempt the highest sky-dive on record. Baumgartner initially struggled with claustrophobia after spending time in the pressurized suit required for the jump, but overcame it with help from a sports psychologist and other specialists
B
aumgartner's most recent project was Red Bull Stratos, in which he jumped to Earth from a helium balloon in the stratosphere on 14 October 2012. As part of this project, he set the altitude record for a manned balloon flight,parachute jump from the highest altitude, and greatest free fall velocity.
The launch was originally scheduled for 9 October 2012, but was aborted due to adverse weather conditions. Launch was rescheduled and the mission instead took place on 14 October 2012 when Baumgartner landed in eastern New Mexico after jumping from a world record
128,100 feett (39,045 m) or just over 24 miles (39 Kilometers) On the basis of provisional data, Baumgartner also set the record for the highest manned balloon flight (at the same height) and fastest speed of free fall at 834 miles per hour (1,342 kph) making him the first human to break the sound barrier outside of a vehicle Baumgartner was in free fall for 4 minutes and 19 seconds, 17 seconds shy of mentor Joseph Kittinger's 1960 jump.
For those that watched the historic jump they should be familiar with Joe Kittinger, he was the man in the control room constantly communicating with Felix. The two have developed such a strong bond that Felix insisted that Joe be the only person at the controls and the primary person speaking to him at all times. The pair proved to be a an excellent combination that have 'the right stuff.'

Awards and Charity Sponsor
Felix was named to Vienna's Street of Champions and twice nominated for World Sports Awards in the NEA Extreme Sports Competition. He is an accomplished licensed gas balloon pilot in both Europe and the United States. Felix holds private helicopters licenses in both Austria and the USA, and has a commercial European helicopter license. He is a strong advocate and stays involved with the non profit Life Spinal Cord Research Foundation. He claims he is on a temporary retirement after his milestone jump and will divide his time between Switzerland and the USA.
"I LOVE A CHALLENGE, AND TRYING TO BECOME THE FIRST PERSON TO BREAK THE SPEED OF SOUND IN FREEFALL IS A CHALLENGE LIKE NO OTHER."FELIX BAUMGARTNER"