Bilderberg do They Matter
When I first started to research the Bilderberg group I did so with mild enthusiasm. I must admit that I was not much of a conspiracy theorist when it came to "The New World Order". Then something happened that got my attention, Barack Obama along with Senator Hillary Clinton, seemingly avoided the White House press corp. as they waited anxiously aboard his campaign jet. Robert Gibbs, Obama's campaign advisor, failed to notify the press until the doors were locked and the plane was proceeding to taxi to the runway. Sen. Barack Obama ditched his unsuspecting press entourage to attend a secretive meeting with Sen. Hillary Clinton in Chantilly Va. The 56th meeting of the Bilderberg Group.

This was a candidate that promised open, transparent and accountable government and he did this before he ever took office. I was intrigued and somewhat astounded at his performance, my thought process screamed at me, what have the American people done. When I had a chance to reflect it was clear to me that Obama was not an agent of change he was simply more of the same but maybe even worse. He was still candidate Obama and not President Obama and he was already deceiving the press corp. and the American people! To say my heart sank is an understatement!
If anyone tries to tell you that the Bilderberg group is a social club or a quaint gathering of millionaires and billionaires your antenna should go up and you should be on alert. If someone says to to use the word discreet as opposed to secret in regards to their behaviors and actions, call them a liar!
For the confessions of a Swiss Banker who points to Bilderberg as a source of murder, corruption and power:
http://noviden.info/article_239.html
Centralize and
Globalize
the financial institutions of the world to consolidate power and be at the center of that power to influence government decisions and actions.
1.
The Bilderberg Organization plays a central role influencing geopolitical and financial world events with the
ultimate
goal of centralizing governments and power.
2. This group exerts considerable influence over central banks and the Federal Reserve.
3.

Bilderberg's agenda for a European federal superstate and a single currency likely goes back to the founding of the organization.

A BBC investigation uncovered documents

from the early Bilderberg meetings which confirmed that the European Union was a brainchild of Bilderberg.
4.
Belgian viscount and Bilderberg-chairman Etienne Davignon bragged
that Bilderberg helped create the Euro by first introducing the policy agenda for a single currency in the early 1990′s.
5. This group would like to extend their globalization plans beyond Europe to include North America. They plan to put into place a new currency for North American which would be a hybrid of the Euro and the Dollar.
5.

Bilderberg has

routinely

flexed its muscles in establishing its role as kingmaker. The organization routinely selects presidential candidates as well as running mates and prime ministers.
6. Bill Clinton and Tony Blair were both groomed by the secretive organization in the early 1990′s before rising to prominence. Both were presented at the Bilderberg Meetings before elections were held.
7. A 2008 Portuguese newspaper report highlighted the fact that Pedro Santana Lopes and Jose Socrates attended the 2004 meeting in Stresa, Italy before both going on to become Prime Minster of Portugal.
What are the Bilderberg rules of Secrecy
Choose a name that gives no indication of what the groups intention or mission is; In the case of Bilderberg they did not choose a name at all, it is named after the first hotel they stayed in back on May 29, 1954.
Have a code of conduct and a list of rules.
Have an initiation ceremony so that each member feels that they are part of something bigger then themselves.
Make all members swear to keep the initiation and mission secret.
Do not give any member special treatment. All members

must be treated equally.
Follow your own rules
Do not recruit, or try to recruit, anyone who you know will disrupt the group.
Keep your organization quiet.Don't admit anything.If a member decides to leave your organization, make sure they won't tell anyone about it.
DO NOT publish ANYTHING about your organization no press releases, general or specific information in the media or on the Internet.
If possible include the media in your organization to control what and how much information is put out to the public.
Don't grow (once you reach optimum size)
Share less with your employees.
Investigate leaks and punish leakers

.
Bilderberg 2011: All aboard the Bilderbus
As the Bilderberg conference heads towards Switzerland there's still time to book your seat on a minibus to St Moritz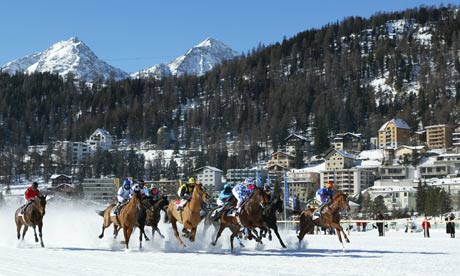 St Moritz: Preparing to host Bilderberg.
As Europe groans, and austerity bites, as defaulting looms, and once proud nations fall to their knees in debt, there's only one annual conference of bankers and industrialists that can step in and save us all…
Next week, in Switzerland, Henry Kissinger and his brave band of corporate CEOs, high-wealth individuals and heavyweight thinktankers will lock arms with Queen Beatrix of the Netherlands and David Rockefeller, and stand their ground against the economic contagion.
The last thing a bunch of bank bosses and multinational executives wants is for the nation-states of Europe to collapse, allowing their assets to be bought up on the cheap. Right?
Besides, if anyone can lay claim to fathering the EU, it's Bilderberg. Sixty years ago, Europe was a mere Bilderbaby, conceived in a solemn ceremony on Prince Bernhard of the Netherlands' mattress. It grew into a fine young Bilderboy, but the years have caught up with it, and now it seems its knees are creaking and its heart is weak.
Perhaps the clear mountain air of St Moritz will prove just the tonic. The Bilderberg Group is gathering there between 9-12 June, at the Hotel Suvretta House, described on its website thus: "Like a beautiful fairytale castle, our hotel is embedded in the fantastic alpine landscape of the Upper Engadine." No mention of the magical rooftop snipers or the fairytale ring of armed riot police, but maybe they'll be updating their website in time for the conference.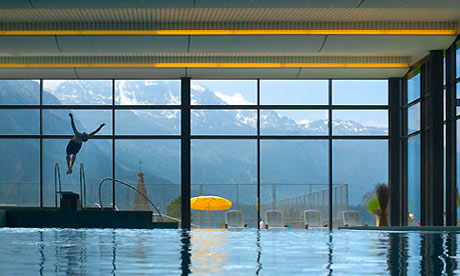 Josef Ackerman, CEO of Deutsche Bank, practises his backflips
The hotel promises that the Privatsphäre of the guests will be utterlyrespektiert, which goes for the conference, as well: the press will be lucky to get a whiff of Kissinger's toast in the morning. It's a shame the attendees are still so phobic of attention, seeing as how this year there's shaping up to be more press interest than ever. People and the media have finally started noticing this quiet little conference at the centre of the storm. The last two countries to play host to the meeting were Greece and Spain, both of whom waved goodbye to Bilderberg and said hello to austerity and unrest. Happy Christmas, Switzerland.
This year, a bunch of less-than-happy Brits are heading out to St Moritz by minibus, to voice their concern at the policies being thrashed out at the conference. They've dubbed their fifteen-seater the Bilderbus, and it leaves Nottingham on Tuesday after work. There are still ten seats to fill: it's £95 return, and camping's cheap when you get there. And I can't stress this enough: it really is a sight to behold. (The conference, not the minibus).
There are two seats free on the bus, since Dominique Strauss-Kahn and Ken Clarke have both been forced to cancel. Which is good news for the chamber maids at the Suvretta House (because Ken is so very untidy – cigar stubs and Ornette Coleman CDs everywhere …)
The Bilderbus awaits you. Fully taxed and insured.
If you'd like to book a place on the minibus, you can email the organisers at this address:

bilderbus@hotmail.com

. And if you're interested to see what crops up on the official

Bilderberg

agenda,

then keep an eye on their website

. Jockeying for position are the crisis in the

eurozone

, the Arab Spring, the

Fukushima

fallout (with Germany backing away from nuclear), and of course, what to do about the Internet. That old chestnut

.
Maybe this year they'll hold a press conference like, I don't know, grown-ups might. I won't be holding my breath. But I will be sniffing the air of St Moritz. If I find out one thing this year, it's going to be what Kissinger has for breakfast. Live eels snatched from a bucket? Or ducklings? Suddenly I'm imagining ducklings. And a mallet.