STONEFIELD BEACH, Ore. – The search for extraterrestrial intelligence (SETI) is the collective name for a search for intelligent extraterrestrial life, but famed British scientist Stephen Hawking is warning that the SETI efforts to actively "contact possible intelligent life out there is way too risky and dangerous," states the new book "First Contact" that also notes how Hawking is convinced "that other higher life forms do exist in the galaxies and would more likely raid Earth for its resources and move on."
"First Contact: Scientific Breakthroughs in the Hunt for Life Beyond Earth" by Marc Kaufman, the national editor for The Washington Post, is a recently published book that does not dispute alien life but, instead, fears it. In turn, there's new promise of cracking the extraterrestrial barrier, writes Kaufman, who points to "prominent scientists from NASA to the Massachusetts Institute of Technology, from the Carnegie Institution of Washington to Princeton and Cambridge universities, have decided to ignore the giggle factor associated with UFOs and ET and join the quest."
Moreover, the recently release British government documents -- that number more than 8,500 and include links to tens of thousands of other UFO sighting material – also confirm reports in Federal Bureau of Investigation files that are now available to the public on the Internet with the FBI's "the Vault," that also confirms that UFO sightings have been based on real events and facts that were previously put under lock and key to protect the public.
This story is number ten in an occasional series of reports about what the secret British UFO files contain, and what new information these documents reveal.
Alien life found both outside and on the Earth
"In the past 10 years we have found that hundreds of planets orbit distant suns not too different from our own and can reasonably infer that billions more exist," writes Kaufman in his new book "First Contact."
"Put all this together and the unavoidable question becomes whether, at bottom, we're all Martians – quite literally descendants of life from Mars or other planets," adds Kaufman in his First Contact book's chapter "The Biggest Discovery of Them All."
Moreover, the author presents views on what to do when the alien's reveal themselves in mass and either take on the Earth or simply let it be as aliens have been doing for thousands of years.
"As someone who also advocates in favor of terra-forming Mars as a sanctuary for Earthlings after we ruin the planet, there is a certain irony to Hawking's views," writes Kaufman.
In turn, Kaufman references a statement given my Hawking – one of the most respected physicist's in the world – earlier this year that's alarming to those who view aliens as possibly friendly.
"We only have to look at ourselves to see how intelligent life might develop into something we wouldn't want to meet," states Hawking in a statement that was not previously released to the public do to fear it would cause coming from one of the world's top brains.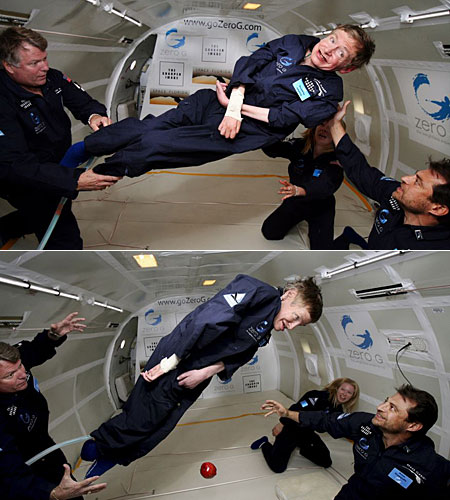 "I imagine they might exist in massive ships, having used all the resources from their home planet. Such advanced aliens would perhaps become nomads, looking to conquer and colonize whatever planets they can reach. If aliens ever visit us, I think the outcome would be much as when Christopher Columbus first landed in America, which didn't turn out very well for the Native Americans," asserted Professor Hawking in his report on why he fears SETI or other contact with alien life.
In turn, the recently released British UFO documents presents numerous references to Hawking's research on alien life in dozens of the 8,500 previously top secret UFO documents that the British government now feels the public can handle given the breakthroughs in the digital age.
Washington Post reporter digs deep to find the truth
"Marc Kaufman, a world-class reporter whose writing is clear and clean, is just the right author for First Contact. I found this book as thrilling as it is illuminating," stated a review for the book that's viewed by Oregon UFO "watchers" here at the popular UFO viewing site at Stonefield Beach as "answering those who fear invasion, but what about aliens who've already visited Earth and are still here living in various alien gangs."
For instance, during recent big blue skies over the Pacific Ocean at Stonefield Beach – that later gave way to "a circle of light" that one local noted as "heaven opening up for another soul," while others who watched this circle of light said "it's a sign of reincarnation" from ancient days."
However, such a sighting is not unique given possible visits by UFOs, said Professor Hawking who also noted that heaven "is a fairy story," in a recent interview.
Professor Hawking is also quoted in London's "The Guardian" newspaper May 16 that "the notion of alien life is real, but dangerous."
At the same time, there are plenty of locals in this Pacific Northwest who attend reincarnation events where they go into a state of hypnotism to help recall their past lives that are tied to alien "first contact" encounters.
Hawking believes in science over God and is speaking out
Stephen Hawking, 69, has not had an easy life. He was diagnosed with A.L.S. at age 21, reports the London-based newspaper The Guardian May 16 in a report about the famous British physicist's non-belief in an afterlife after being asked if he feared death.
"I have lived with the prospect of an early death for the last 49 years. I'm not afraid of death, but I'm in no hurry to die. I have so much I want to do first," he told the newspaper.
"I regard the brain as a computer which will stop working when its components fail. There is no heaven of afterlife for broken down computers; that is a fairy story for people who are afraid of the dark."
British media analysts noted that Hawking – who many view as a genius in the mold of Albert Einstein – is now going beyond the comments he made about God and no afterlife in his 2010 book, "The Grand Design," that The Guardian reported as "stirring up passions" with Hacking's views that "science can explain the universe's origin without invoking God."
"Hawking has far outlived most people who have A.L.S., also known as Lou Gehrig's disease, producing important cosmological research and writing books. His A Brief History of Time, published in 1988, has sold more than 9 million copies," stated The Guardian interview with Hawking a day before Hawking is scheduled to address the question "Why are we here?" at the Google "Zeitgeist" meeting in London where Hawking also warned scientists about SETI research as alerting aliens to Earth as easy pickings.
"In the talk," according to The Guardian, "Hawking will argue that the tiny fluctuations in the very early universe became the seeds from which galaxies, stars, and ultimately human life emerged from possible alien contact."
"Science predicts that many different kinds of universe will be spontaneously created out of nothing. It is a matter of chance which we are in," Hawking said.